SOC 2 Type 2 audits and assessments are offered by NDNB, North America's leading provider of regulatory compliance services. We offer a vast array of third-party assurance reporting, such as SOC 1 SSAE 18 compliance, SOC 2 and SOC 3 audits, along with numerous other compliance solutions.
As for SOC 2, it's become one of the most well-known - and highly requested - of all the compliance reporting mandates in today's business world, so here's what you need to know when it comes to getting your business prepared for an annual SOC 2 audit, courtesy of NDNB.
NDNB also offers comprehensive SOC 1 and SOC 2 audits for businesses using Amazon AWS, Microsoft Azure, and Google GCP.
1. SOC 2 Type 1 vs SOC 2 Type 2: You'll need to be aware of the differences between a SOC 2 Type 1 and a SOC 2 Type 2, which is relatively straightforward. A Type 1 audit is an assessment performed for a specific date, such as June 30, 20xx, while a Type 2 audit is an assessment performed over an agreed upon test period – generally six (6) months – such as January 1, 20xx to June 30, 20xx. Service organizations new to SOC 2 reporting generally begin with a SOC 2 Type 1 audit, then effectively move on to a SOC 2 Type 2 audit in subsequent periods.
2. Begin with a SOC 2 Readiness Assessment: The very best way for helping ensure the success your annual SOC 2 audits is by performing a brief, yet highly valuable scoping & readiness assessment. If you're new to the AICPA SOC reporting framework, then a readiness assessment is really a must, and if you've been performing SOC 2 audits for years, it's still a good idea to have an independent, objective view of your control environment prior to the audit. From determining critical scope issues to identifying gaps and internal control weaknesses, NDNB's SOC 2 scoping & readiness assessment activities are essential for your long-term audit success.
Don't look at a SOC 2 readiness assessment as just another expense for the engagement – not at all – it's actually one of the most useful and beneficial exercises that can be performed for helping ensure the long-term success of one's compliance mandates. After all, service organizations need to understand important scope considerations, what gaps and weaknesses exist within ones' control environment – and much more – all the more reason for speaking to the experts today at NDNB. Call and speak with CPA Christopher Nickell, at 1-800-277-5415, ext. 706 to learn more about NDNB's SOC 2 services, or email him at This email address is being protected from spambots. You need JavaScript enabled to view it. also.
3. Remediate your Internal Control Failures: Remediation is a two (2) part process that generally consists of (1) policy and procedural (i.e., documentation) remediation, followed by (2) technical/security remediation. They both "can" be a time-consuming process, it just depends on the maturity of one's control environment. At any rate, you'll need to ensure you've got access to high-quality security templates – such as those we offer complimentary to our clients – along with having technical expertise on board to remediate I.T. deficiencies. NDNB has both the tools and expertise for assisting with both types of remediation; another reason why Atlanta businesses choose us for SOC 2 services.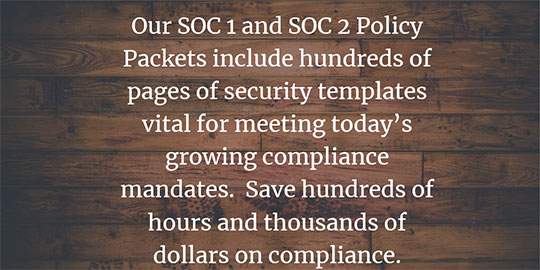 4. Begin to Implement Continuous Monitoring: Assessing and overseeing one internal policies, procedures, and processes is what the concept of "Continuous Monitoring" encompasses. Sure, it's necessary for meeting annual regulatory compliance assessments – in terms of hopefully receiving satisfactory audit reports – but it's also a best practice that every business should be performing, and for obvious reasons.
NDNB provides easy-to-use internal control forms and checklists for helping perform continuous monitoring activities throughout the year, so talk to us today. Performing a SOC 2 audit is a process that continues long after the initial assessment is obtained, so keep this in mind.
5. Other Important Information: First and foremost, today's regulatory compliance environment is here to stay – no questioning that at all – thus it's imperative that businesses seek out the expertise of a well-known, highly qualified firm, somebody with years of experience performing a wide range of compliance audits, and that's NDNB.
Second, if you have other additional audit needs – such as HIPAA, PCI DSS, and others – there's great efficiencies to be had by combining many of your annual audits into one process. Time is money, and the professionals at NDNB offer all the tools and solutions for implementing and initiating an efficient and flexible audit program for your business.
NDNB. North America's SOC 2 Compliance Experts
NDNB has been performing a wide range of regulatory compliance audits for businesses for years, starting with the historical – and now defunct – SAS 70 auditing standard, and on to the current AICPA Service Organization Control (SOC) reporting framework, consisting of SOC 1 SSAE 18, SOC 2, and SOC 3 audits. Additionally, NDNB offers numerous supporting audit functions, such as scoping & readiness assessments, remediation services, all at fixed-fee prices. Call and speak with CPA Christopher Nickell, at 1-800-277-5415, ext. 706 to learn more about NDNB's SOC 2 services – or email him at This email address is being protected from spambots. You need JavaScript enabled to view it. also.