Looking for a comprehensive SOC 1 SSAE 18 introduction and overview from a firm with years of regulatory compliance experience, then take note of the following information, courtesy of NDNB, North America's leading provider of high-quality, fixed feed priced SOC 1 SSAE 18 audits & assessments. As regulatory compliance professionals, we're experts when it comes to SOC 1 SSAE 18 compliance, along with SOC 2 and SOC 3 audits also, so turn to the proven and trusted professionals who've been helping businesses all throughout North America in navigating the complex and often frustrating world of regulatory compliance.
SOC 1 SSAE 18 – Important Points to Note for Service Organizations
Learn about the SOC Framework: The American Institute of Certified Public Accountants (AICPA), in response to an aging one-size fits all standard (i.e., SAS 70), along with changes and advances in business, and the overall migration to global accounting standards, put for the new SOC framework. SOC stands for System and Organization Controls (SOC) reporting, for which there are three (3) types of reports: SSAE 16 (now SSAE 18) SOC 1, AT 101 SOC 2 and AT 101 SOC 3. SSAE 18 and SOC 1 are used interchangeably or together to describe this audit, thus for clarity just remember the SSAE 18 is actually the professional AICPA standard used for issuing SOC 1 Type 1 and SOC 1 Type 2 reports by a licensed CPA firm.
NDNB also offers comprehensive SOC 1 and SOC 2 audits for businesses using Amazon AWS, Microsoft Azure, and Google GCP. And if you're using AWS for hosting of your production environment, here's what you need to know NOW about SOC 2 audits.
Using AWS for Hosting? Here's What You Need to Know about Performing SOC 1 & SOC 2 Audits
Understand the Importance of the ICFR Concept: There's a concept in the world of auditing known as "Internal Controls Over Financial Reporting", one that clearly establishes a relationship with SSAE 18 and any service organization conducting transactions on behalf of their clients' that have the ability to impact their client's financials. Think trust departments, actuarial entities, Third Party Administrators (TPAs) – they're all performing functions that clearly impact financial reporting for their clients, and such, SOC 1 SSAE 18 is the preferred audit reporting method.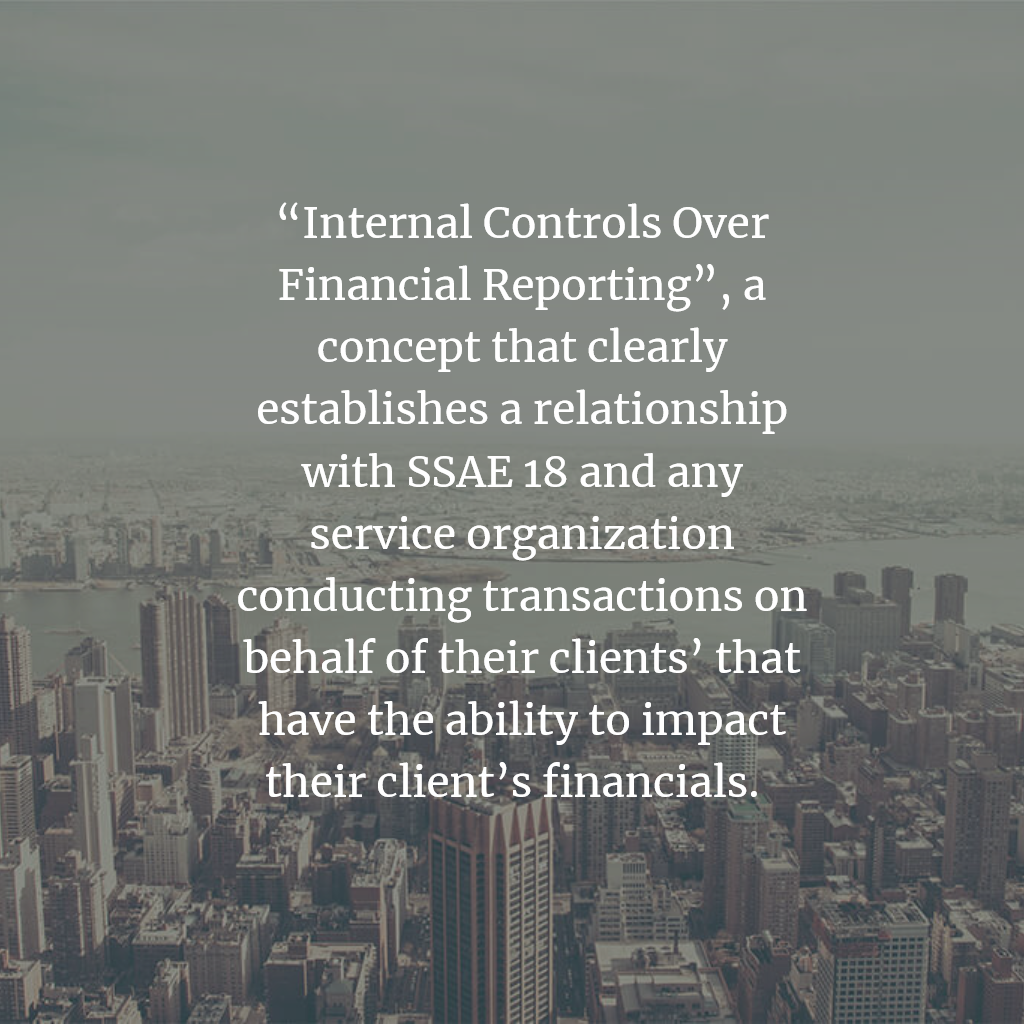 Be aware of scope Considerations and Control Objectives: It's important to clearly address all scoping issues prior to the commencement of an actual SOC 1 SSAE 18 assessment, which can be successfully done by undertaking a scoping & readiness assessment. Specifically, a SOC 1 SSAE 18 scoping and readiness assessment helps identify what business processes are to be included, including ICFR issues, along with evaluating internal control processes and procedures, documentation deficiencies, technical/security control weaknesses, and more. Knowing what you're getting into before you begin an audit is a wise move, so talk to the experts today at NDNB about our SOC 1 SSAE 18 readiness assessments for service organizations throughout North America.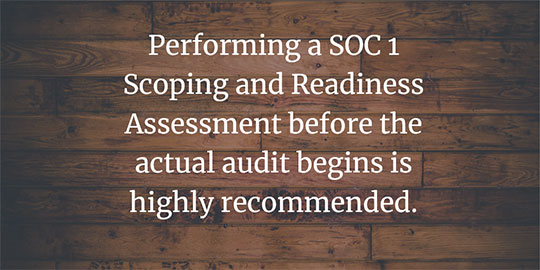 Are you a Financial Institution? It's important to note that while the true candidate for SOC 1 SSAE 18 compliance are those mentioned earlier regarding ICFR, many other types of non-ICFR entities do in fact undertake annual SOC 1 SSAE 18 compliance, such as data centers and other technology businesses. While there is still great debate on the SOC 1 vs. SOC 2 reporting platform – generally speaking, SOC 1 should be for ICFR reporting, while SOC 2 should be for technology-oriented service organizations.
Audit Evidence is Crucial: We're often asked as auditors "Can you tell me what materials you need to see"? It's a general question, one that allows us to really provide a detailed answer on the general topic of audit evidence. Generally speaking, be expected to provide all relevant security and organizational-wide processes and procedures, screenshots of systems, memos, along with a healthy dose of interviews.
Documentation is a Must for SOC 1 SSAE 18 Compliance: Question: What's often the biggest obstacle and most time-consuming aspect of SOC 1 SSAE 18 compliance? Answer: Developing and providing auditors with all the necessary – and mandated – security and operational processes and procedures. That's right, companies loathe developing documentation, and it's often a large void that needs to be filled before the audit begins.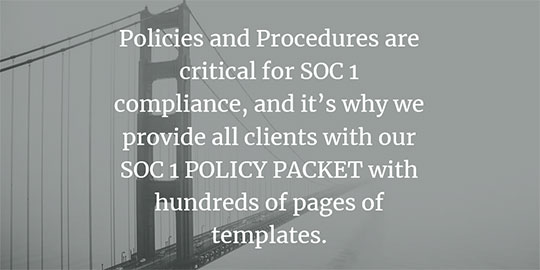 Educate Yourself on the Merits of a "Description of the System" and "Management Assertion": The service organization has two (2) very clear responsibilities when it comes to SOC 1 SSAE 18 compliance: (1). Provide a description of its "system", which is essentially the daily security and operational activities for which the service organization undertakes. (2). Provide the service auditor with a "written assertion by management", which effectively "asserts" to a number of clauses relating to the actual audit itself.
What Can Go Wrong during the Audit? With years of performing SOC 1 SSAE 18 audits, we're often asked "what can go wrong" with an audit – and just like anything in life – not preparing can lead to serious challenges and problems. As for what can go wrong, here's our list of common issues found during a SOC 1 SSAE 18 audit:
Not properly scoped.
Management has not conveyed the seriousness of the audit to the organization.
Lack of documentation – specifically – security processes and procedures
Challenges in finding personnel to assist with the audit.
Providers of Fixed-Fee SOC 1 SSAE 18 Assessments
The solution for comprehensive, efficient, and cost-effective SOC 1 SSAE 18 assessments for businesses is NDNB, so call and speak with Christopher G. Nickell, CPA, at 1-800-277-5415, ext. 706 today to receive a competitively priced fee. Additionally, NDNB offers SOC 2 and SOC 3 compliance reporting, along with other supporting compliance services, and much more.
Offering a complete lifecycle of services and solutions for today's regulatory compliance mandates means that NDNB is much more than just a CPA firm providing audits – that's right – we offer in depth advice, guidance, and support throughout the entire assessment process from day one. What's more, our numerous supporting tools provide that extra layer of assistance businesses are looking for. Contact us today to learn more about our SOC 1 SSAE 18 services – and other solutions – for businesses throughout North America.
NDNB is North America's Leading Provider of SOC Audits
NDNB is ready to assist your organization with today's complex and challenging regulatory compliance needs, especially with SOC 1 SSAE 18 Type 1 and Type 2 compliance. We're much more than just auditors, rather, look upon NDNB as trusted advisors in helping navigate the rough waters of security, governance, and compliance. Turn to NDNB today for proven and trusted services.
From readiness assessments to technical remediation, performing compliance audits – and much more – the professionals at NDNB have the knowledge, expertise, and manpower in helping businesses become compliant with today's growing and complex regulations. You need unbiased advices, expert guidance, and helping hand for ensuring your annual compliance mandates are being bet, and we're the firm to get you there. We are North America's SOC 1 SSAE 18 Type 1 and Type 2 compliance experts.
Fixed-Fees. Superior Service. Nationwide Coverage
In today's competitive business landscape, businesses are being required to perform a wide variety of regulatory compliance audits – SOC 1 SSAE 18, SOC 2, SOC 3, and more – many of which can be incredibly time-consuming and challenging. With NDNB, we've built a highly efficient audit process from beginning to end, saving you hundreds of hours and thousands of dollars when it comes to regulatory compliance. Is there a better way to audit – yes, there is, and it starts by contacting the experts today at NDNB.
Call and speak directly with Christopher Nickell, CPA, at This email address is being protected from spambots. You need JavaScript enabled to view it., or call him directly at 1-800-277-5415, ext. 706. Whatever the compliance requirements are, NDNB has an efficient, cost-effective, fixed-fee solution for your business. From SOC 1 scoping and readiness assessments to performing SOC 1 SSAE 18 Type 1 and Type 2 audits, we're the CPA firm in North America you need to know about.