Who Needs a SOC 2 Report? Q&A from NDNB
Answer: There are literally tens of thousands of businesses – technically known as "Service Organizations" – in the world of regulatory compliance that actually have to perform an annual SOC 2 audit.
Service organizations are entities that provides essential services to another business, and because of that, these very service organizations are often asked to perform annual SOC 2 audits for purposes of examining and testing their internal controls.
What are internal controls? As defined in accounting and auditing, internal controls are a process for assuring an organization's objectives in operational effectiveness and efficiency, reliable financial reporting, and compliance with laws, regulations and policies.
Simply stated, internal controls are about the policies, procedures, and processes a service organization has in place for their daily operations. How do employees access information systems? What initiatives does management have in place for showcasing leadership and accountability? These are just a few of the countless number of internal controls for which service organizations should have in place, and annual SOC 2 reporting examines – and tests – these controls.
Think about it, if you're a business outsourcing to another business, don't you want to know about that organization's internal controls? Don't you want to know how their daily operations are run, what policies, procedures, and processes are in place? Sure, you do, and it's why SOC 2 reports are being required for thousands of businesses throughout North America, and the world.
Common Types of Businesses that Need to Perform SOC 2 Reports
Some of the most common types of service organizations that are being required to undertake annual SOC 2 reports are the following:
Software as a Service (SaaS) Entities: Many SaaS, PaaS, and IaaS businesses are actually building and deploying their products and solutions into Amazon AWS, Microsoft Azure, Google, GCP, and other smaller cloud service providers (CSP). And while the CSP's themselves have all gone through a laundry list of regulatory compliance audits – including SOC 2 audits – businesses utilizing a CSP's services still have to perform their very own SOC 2 audit.
This is where SOC 2 audits are experiencing phenomenal growth – the cloud computing arena – so if you're a SaaS provider of services to end-users, don't be surprised if annual SOC 2 compliance reporting comes knocking on your door.
Managed Security Services (MSS) Providers: MSS providers have grown tremendously in recent years as a true need has developed when it comes to managing and securing an organization's infrastructure.
In reality, almost any type of technology-oriented business is a viable candidate for SOC 2 reporting.
Are you using Amazon AWS for hosting? Learn about SOC 2 reporting for businesses using AWS
5 Things to Know About SOC 2 Audits
Need to have a SOC 2 audit performed on your business? Here's the five most important things you need to know right now for ensuring a successful audit from beginning to end, courtesy of NDNB, North America's leading provider of high-quality, fixed-fee audit services.
1. Begin with a SOC 2 Scoping & Readiness Assessment. Want to gain a greater understanding of your control environment – the policies, procedures, and processes within you daily operations – if so, then beginning with a SOC 2 scoping & readiness assessment is a must. Diving head-first into a SOC 2 audit with little planning or preparation is not recommended. Spend a little money upfront to save thousands in the long-term is the smart move for SOC 2 auditing, and it's why every business new to the SOC compliance world should begin with a SOC 2 scoping & readiness assessment.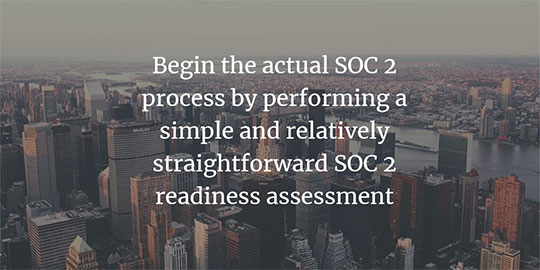 2. Understand that Remediation will be Necessary. Almost every business undergoing a SOC 2 audit will have some type of remediation to perform, no question about it. Perhaps you have missing information security policies and procedures (after all, documentation is a big part of SOC 2 compliance). Maybe you need to re-configure password settings for creating stronger log-in credentials.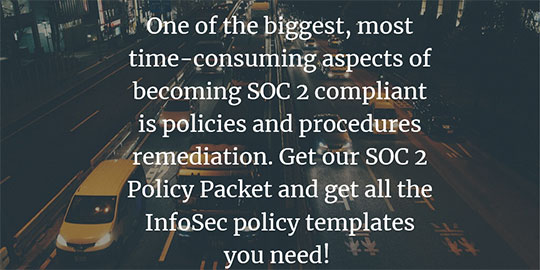 A SOC 2 scoping & readiness assessment, when properly performed, will help you identify, plan, and execute on all essential gaps that need to be remediated. NDNB offers numerous tools and solutions for helping with remediation, ranging from complimentary information security policies and procedures to system hardening checklists, and much more. Contact Christopher Nickell, CPA, at This email address is being protected from spambots. You need JavaScript enabled to view it., or call him at 1-800-277-5415, ext. 706 to learn more.
3. Continuous Monitoring of Controls is a Must. Once the initial SOC 2 report is completed, service organizations will need to begin a process of continuous monitoring. Specifically, continuous monitoring entails assessing and monitoring one's internal controls – your policies, procedures, and processes – and making changes as necessary. This requires a true culture change within organizations, which in turn means dedicating resources to ongoing audit activities for your business.
4. SOC 2 Audits are an Annual Requirement. Welcome to the world of regulatory compliance where annual SOC 2 reporting is the norm, not the exception. Businesses want to know about your internal controls – how they're functioning, what issues you may have – hence, the reason for timely SOC 2 audit reports each year.
5. Choose a CPA Firm with Expertise and Fixed-Fees. NDNB has completed over a 1,000 regulatory compliance audits over the last decade, beginning with the now retired SAS 70 auditing standard. We've helped organizations all throughout North America, Europe, and Asia with challenging regulatory compliance needs. Contact Christopher Nickell, CPA, at This email address is being protected from spambots. You need JavaScript enabled to view it., or call him at 1-800-277-5415, ext. 706 to learn more about our SOC 2 services, and other compliance solutions for your business. So, who needs a SOC 2 report? Thousands of service providers, that's who.
In closing, if you're a business providing essential services to other businesses, then don't be surprised if you're called upon to perform an annual SOC 2 audit. It seems as if every business is outsourcing a critical function to another business – that's the new reality of today's global business environment – but it also means that compliance audits are also the new norm.
Stay Informed
When you subscribe to the blog, we will send you an e-mail when there are new updates on the site so you wouldn't miss them.